アスラン CN 菊一文字则宗
カガリ CN 米奈子
PHOTO BY 小Y
后期PS BY菊/ 鸣焱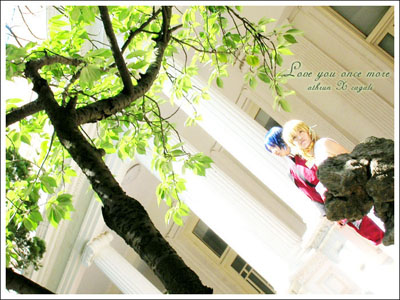 View of shunting, different principle
错开的视线,不同的理念
Transmute from the princess prime minister,
从公主蜕变成首相,
Transmute from the ACE politician,
从ACE蜕变成政客,
We have how much times can stay to each other?
我们有多少时间可以留给彼此?
Perhaps and till then you and I am only would it is common memory that years that together experience consider as.
也许到那时你我只会将那些共同经历的岁月当做是普通的记忆
Our love?
我们的爱情?
Do not want to use to borrow like this a tie live you.
不想用这样的借口束缚住你。
Why would become like this?
为什么会变成这样?
I like the day that think of the past,
我好怀念以前的日子,
One-time…………
以前的…………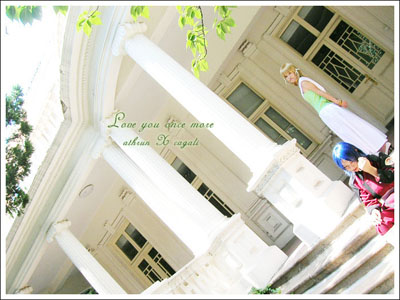 My have you nearby,
我的身边有你
Your have me nearby,
你的身边有我,
Each other is mutually according to.
彼此相依。
Opposite hour is from the view that the mouth Cape cut through, the radian of the smile, small touch in center of palm of hand with temperature…………
相对时从嘴角穿过的视线,微笑的弧度,掌心细微触感和温度…………
Disappear…………
消失了…………
Look back to hope to go to, you would still in that you the place that I acquaint with?
回首望去,你还会在那个你我熟悉的地方吗?
Still, we already have separated
还是,我们早已颠沛流离?
You and I not only is each other only of you and I, carry on the shoulder of is a civil benefits in hundred million.
你我不仅仅是彼此的你我,肩上担负的是亿万民众的利益。
Have to divide out the oneself to hand over to them, that is ours job, having no can evade.
不得不将自己分出来交给他们,那是我们的职责,无可推卸。
Looking back you has no your figure, in former days of the time became the sketch in the recollection
回首你没有了你的身影,昔日的时光成为了回忆中的剪影
Empty courtyard, birds'twitter of lonesome.
空荡荡的庭院,寂寞的鸟鸣。
Your face still young which in the momery ,but we all know that will be forgetten like the old photo.
记忆中的脸颊依旧年轻,可我们都知道那也只会像渐渐泛黄相片而被遗忘
If we meet in a certain day at the future
如果在未来的某一天,我们相遇,
Please remember, that day afternoon sunlight and our brilliant smiling face.
请记得,那日午后的阳光和你我灿烂的笑脸
I wish I could love you once more
我想再一次爱你。
スポンサーサイト
« 10/3 D-GRAY-MAN李娜丽外拍「预告」 l Home l 天水「1981—DESIGN & ART」活动 »